Bosch PROCORE Batteries and Sets - ProCORE18V - Power In a New Dimension
Get the maximum performance from your Bosch 18v Professional Power Tools with the ProCore 18v battery range and Bosch BITURBO Brushless Tools supplied next day delivery from Buyaparcel.com.
A new dimension of POWER FOR ALL Bosch Professional 18V power tools: the ProCORE18V batteries 4.0Ah, 8.0Ah and 12.0Ah - the most powerful Bosch 18v batteries ever, thanks to the latest cell technology and superior heat management.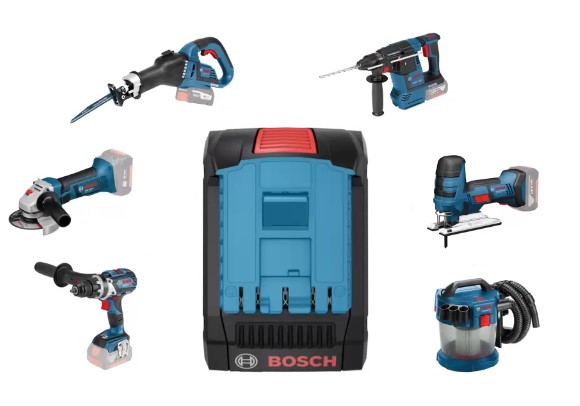 Bosch Procore is fully backwards compatible - Since the Bosch 18v Blue professional launch back in 2008 Bosch have been producing professional power tools on this 18v battery platform. The good news is all the new Bosch PROCORE 18v batteries will fit your old machines. So you will get all the benefits of the extra run time that the Bosch Procore high capacity batteries bring.
What makes the Bosch ProCORE18V Battery so special?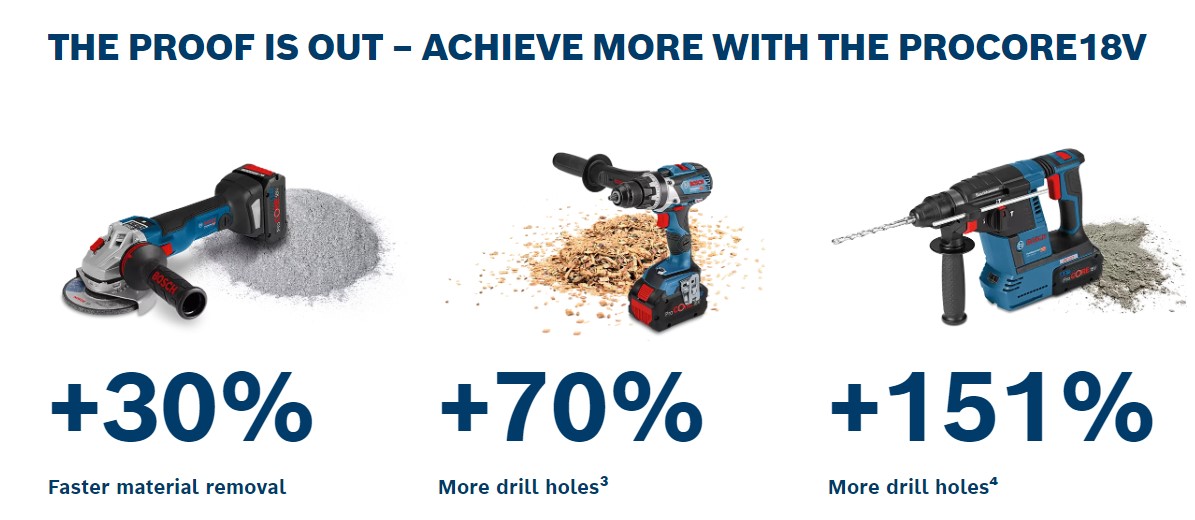 Bosch Procore 18v 4ah Battery delivers all the power of a standard 18v 4.0ag battery but without the weight!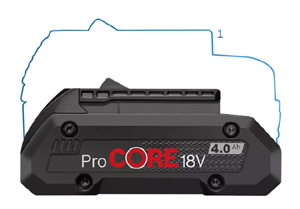 The Bosch PROCORE 4.0Ah battery is Ideal for all drilling and screwdriving applications where a lower weight comes in handy. This Bosch ProCORE18V 4.0Ah delivers just as much power as a standard 4.0 Ah battery, despite being lighter and up to 39% more compact than comparable batteries of its class.
Bosch 1600A016GB ProCORE GBA 18v 4.0Ah Lithium Ion Battery Cordless
Bosch Procore 18v 8ah Battery is a compact power house.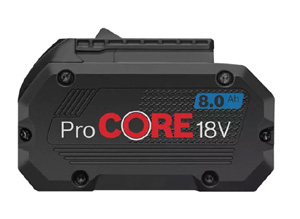 Normally you find that when a battery capacity increases so does the batteries physical size! However the Bosch ProCORE18V 8.0Ah is at least 23% more compact than comparable high-performance batteries from the competition.
Whenever you need high power over a long period for time for your Bosch 18v product: The ProCORE18V 8.0Ah deliver outstanding performance despite their compact size. The Bosch ProCORE18V 8.0ah battery will deliver up to 1,800 Watt.This makes both batteries ideally suited to our new Bosch BITURBO tools.
The ProCORE18V 8.0Ah provides you with a longer runtime.
Bosch 1600A016GK ProCORE GBA 18v 8.0Ah Lithium Ion Battery Cordless
Bosch Procore 18v 12ah Battery gives maximum cordless performance and the longest run time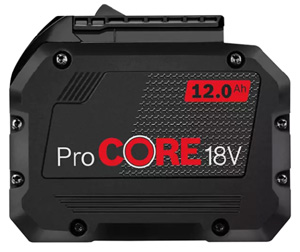 The Bosch PROCORE 12AH Battery is what you need to get every ounce of power out of your tools to complete extreme applications. Thanks to the triple-layered cell structure of the Bosch ProCORE18V 12.0Ah, you can work with maximum power for an exceptionally long time.

For performance as powerful as that of corded tools of up to 1,800 Watt. In interaction with our Bosch BITURBO tools, you are equipped to meet all challenges.
Bosch 1600A016GU ProCORE GBA 18v 12.0Ah Lithium Ion Battery Cordless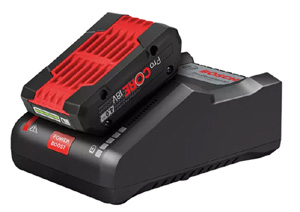 All this power from the Bosch PROCore platform and a charger that can charge up to 50% capacity within 9 minutes! Get back to work faster than ever thanks to the world charging champion GAL 18V-160 C Professional.