Dewalt Landscaping Redemption 2022 - GET A FREE COMBI DRILL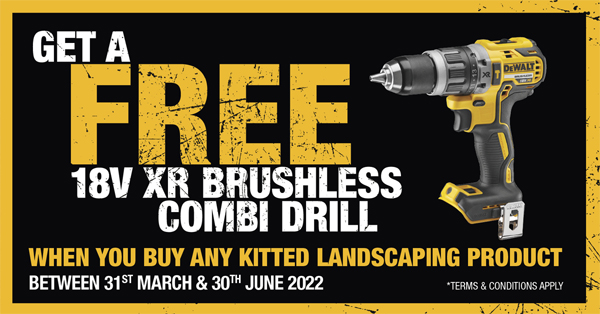 Redeem a free DCD796NT-XJ 18V XR Brushless Combi Drill (Bare unit).

When you buy any kitted landscaping product, on or between 31/03/2022 to 30/06/2022.

Submit your claim by 14/07/2022. *Terms and conditions apply.



How to claim your FREE DCD796NT Combi Hammer Drill
1- Buy one of the qualifying kitted landscaping products from the Dewalt campaign as per the *Terms and conditions apply.
2- Log in to your MyDEWALT account using the sign in box below or create an account if you don't have one.
3 - Select the 'Redemptions & Competitions' section and follow the cashback banner.
4 - Complete the form, upload your receipt, and accept the terms and conditions.
At Buyaparcel we will supply you with a full VAT Receipt with the goods - this can be emailed on request in PDF
Please note this is valid on orders made via our website only. This is not valid on ebay orders.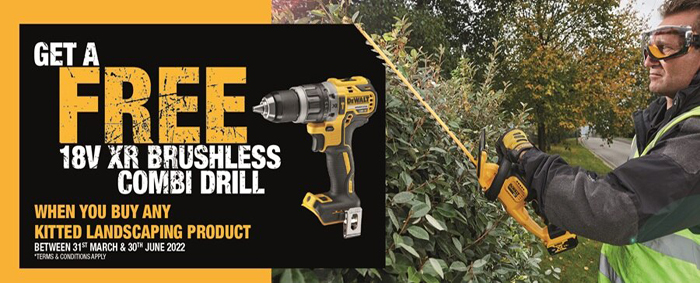 See qualifying products below.
Dewalt DCM565P1 18v XR 30cm Cordless Chainsaw Brushless - 1 x 5.0ah Battery

Stock Code: DCM565P1-KIT

In stock

- FREE STANDARD DELIVERY to most UK postcodes - Next Day Delivery Available

Dewalt DCM572X1 54v XR FLEXVOLT Cordless Brushless Garden Leaf Blower - 1x 9.0Ah

Stock Code: DCM572X1-KIT

In stock

- FREE STANDARD DELIVERY to most UK postcodes - Next Day Delivery Available

Dewalt DCMBL562P1 18v XR Brushless Axial Blower + 5.0ah Battery + Charger

Stock Code: DCMBL562P1-GB

In stock

- FREE STANDARD DELIVERY to most UK postcodes - Next Day Delivery Available

Dewalt DCMPS567P1 18v XR Brushless Pole Saw Chainsaw Pruner Split Shaft -1X5.ah

Stock Code: DCMPS567P1-KIT

In stock

- FREE STANDARD DELIVERY to most UK postcodes - Next Day Delivery Available

Dewalt DCM561P1S 18v XR Brushless Grass Line Trimmer Split Shaft - 1 x 5.0ah

Stock Code: DCM561P1S-GB

Dewalt DCM5713X1 54v XR Flexvolt Cordless Grass Timmer Cutter Split Shaft - 9ah

Stock Code: DCM5713X1-KIT

Dewalt DCM571X1 54v XR Flexvolt Cordless Grass Timmer / Brush Cutter - 9ah

Stock Code: DCM571X1-KIT

Dewalt DCM575X1 54v XR Flexvolt Cordless 40cm Chainsaw Brushless 1x9.0ah Battery

Stock Code: DCM575-1-9AH

Dewalt DCMAS5713X1 54v XR Flexvolt Split Boom & Grass String Trimmer - 1 x 9.0Ah

Stock Code: DCMAS5713X1-GB